Do you want a responsive theme for your WordPress website? If yes, you are in the right way. Today I came with one of the best free WordPress themes which will help you to create a responsive WordPress website. It is none other than Flash. It is an attractive theme that comes with a 30K+ active installation.
Flash is a free WordPress theme with which you can create a responsive website. It is a versatile theme that makes your site attractive and powerful.
Here you will get several pre-built demos that you can import with your single click within a few seconds. Flash is fully integrated with Flash Toolkit and SiteOrigin's Page Builder Plugin. Hence you will get a user-friendly website that is easy to access.
Similarly, Flash is built with multiple blog layouts which are just amazing. Now you can get the same layout as a demo for your website with your single click.
It is compatible with WooCommerce, which clearly shows you are able to create a powerful website for your business. Moreover, it comes with elegant features for headers, color typography, and many more.
Why choose Flash for your responsive WordPress website?
Flash comes with several outstanding features with which you can create a powerful website. Some of them are listed below:
Compatible with drag and drop page builder
Integrated with Flash Toolkit plugin
Comes with 6+ widget areas
18+ Custom Widgets
Designed with advance color options
Attractive google fonts
Comes with 3 demo contents
Compatible with WooCommerce
SEO Optimized compatible with all major browsers
From the above features, it is clear that Flash is really an amazing theme for any type of WordPress websites. With this, anyone can create a powerful website for your small is big business.
I hope you are now familiar with the theme Flash. Now let us dive into its main features in detail so that you can get deep information about Flash. Here have a look:
Multi-purpose Website Demos
The demos of Flash theme are just amazing. Sometimes we are not getting ideas on how to craft the design for your site layout. It mainly happens to beginners, isn't it? In such a case, demos will be very helpful.
With the implementation of these demos, you are able to build a wonderful website for your blog and magazine. You just need to customize its content. If you want something new and unique besides these available demos then you are free to try your own ideas for creating themes and websites.
Fully Responsive
If you are building any website, it should be compatible with all types of screens. If you can craft your website design in such a way, you will get very little traffic on your site.
Since most of the time users browse with their mobile, if they can see effective visual or layout of your site, they will not visit your site again. Hence it will be worthless. If you are implementing Flash theme, you will not face such type of issues, as comes with responsive layout.
And it helps you to create a fully responsive website that looks elegant on all types of screens, from small to large ones.
Typography Styles and Colors
Likewise, typography and colors very essential tools for any website. It is responsible for making your site attractive and powerful. Here, you will get awesome font styles and multi-colors for your content which will make your typography stunning and unique.
You are able to craft a perfect-looking website with easy access. Hence you can attract huge people and better rank in the search engine. It is just wow.
WooCommerce Compatible 

WooCommerce compatibility is very necessary for any commercial website. If you are about to create a business website with Flash, it will be a good idea.
Since Flash is fully compatible with WooCommerce, it will help you to integrate your commercial online business with your content and blog very easily. You can get the best result for your business website along with huge traffic and top SEO rank.
Easy to Setup
Flash is easy to install and setup. You need not hire any expert or coder, even a beginner with basic knowledge can deal with it very well. It also allows you to preview change lively, widgets with meaningful options, demo content imports, and video tutorials. So you don't have to take any headache with its setup process.
Translation Ready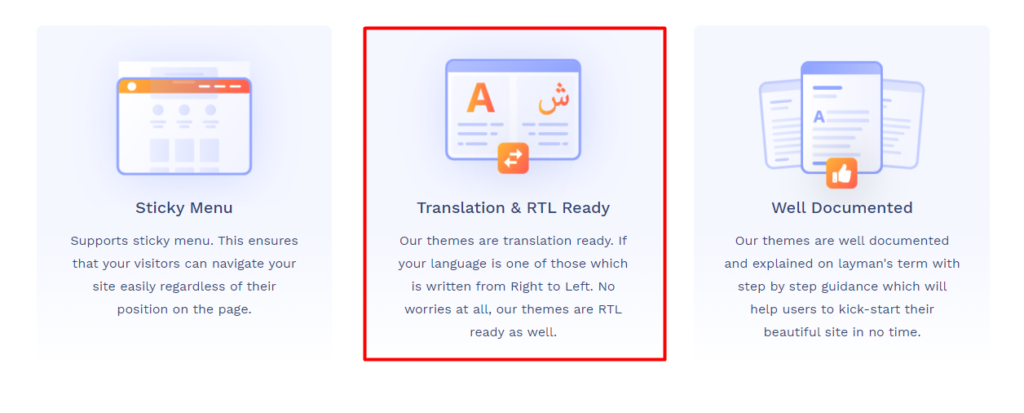 Now you are allowed to develop your website in your own language. With this, you can translate your site into a language you want. This is really an amazing feature that adds a highlight to the theme as well as website.
Social Media Option
Nowadays everything is shared on social media which makes it the best medium for advertisement. It is responsible for increasing the traffic to your website. Suppose your visitor shares your posts on social media like Facebook, Twitter, or others.
That posts will be further viewed by their friends, and again friends of friends. This circle goes on and you can get several viewers which increases your site traffic. Flash is integrated with almost all the social media plugins which will help you with better customization.
SEO Optimization
The search engine is the most important part of any blog website. This means increasing the traffic to your website. This theme is developed by professionals with the use of a proper code and give it elegant looks.
It is liked by both the search engine and the user which results in the increment of SEO. And as a result, you will find your website in the top rank of the search engine.
Outstanding Custom Widgets
Flash comes with 18+ customs widgets along with 6+ widgets area. This will help you customize your website in a way you required. With this, your website will look great and attract huge traffic. All of its widgets are too good for its respective areas.
Outstanding and Dedicated Support
Last but not least, Flash comes with a dedicated support channel. Whenever you caught by any troubles, you can simply send your message to its team. Its professionals will look after your queries and help you solve it as soon as possible. So you should not worry about its install, setup, or any other process. Feel free and go through the flow.
Well this is all about its main features, isn't it amazing? I assure you will love this theme and implement it for your next upcoming website. So let's go toward its installation process.
How to Install Flash theme?
The installation process is so easy so you don't have to worry. Even you are beginners, you can go through the following process:
Go to the homepage of Flash.
Click on get Flash.
You will get the download option. Download the zip folder of the theme.
Navigate to the appearance theme.
At the top of the page click on Add New button.
On the next page click on the Upload Theme button.
Click the choose file option and choose the ZIP folder of the Theme you have downloaded.
Click on Install Now option.
The theme will be installed successfully and then click on the Activate option.
Premium Version
Flash is also available in its premium version. If you using its free version and wants some additional features, them simply upgrade it to premium one. Here have a look at what is an addition on the premium one:
800+ google fonts
13+ attractive color option
WPML Compatible
Integrated with Google maps
3 Additional header styles
Provides unlimited slides
Comes with 7 demo contents
WooCommerce category slider
3 new styles for blog
Conclusion
This is all about the Flash theme. It is the easiest, flexible, and feature-rich theme which will help you to create an attractive and powerful website. With its amazing features, it is able to get 5 out of 5 stars, which is quite an impressive rating. Because of its easy access, even beginners can deal with it very well.
Flash provides a beautiful layout for your site and makes it responsive for all sizes of screen. So go through this article and verify the advantage of this theme yourself. I assure you will end with a positive impact and amazing experience and can be able to create a powerful website.
I hope you get this article helpful for you. If you are getting any trouble, leave your queries in our comment box. We heartily accept all of those and get back with your answer as soon as possible.
Keep visiting our sites for more such beautiful and useful articles.
You may like Zakra theme review.